Welcome to my little home! I'm so excited to finally have something that I feel so passionate about sharing with all of you. Since finishing Expedition 196 (for those of you who are new, Expedition 196 was my 196 country expedition around the world), I've lived in 6 homes from Connecticut to Playa vista to Boulder to Malibu and now back to the LA area.
A little background of my housing situation:
When I finished my expedition, I lived with my parents for a couple months in their spare room while I got my feet on the ground and was able to secure housing again. I ended up moving back to LA to a little community called Playa Vista, which was about 10 minutes from LAX and yet had everything a modern-day millennial could ask for, including access to 5 gyms, 3 pools, endless barbecue and fire pits, outdoor TV's, hot tubs, Whole Foods and an amazing Mexican restaurant (SŌL), just steps away. They offered bikes for rent (for free) and there were scooters everywhere, but what really made me leave, was not only the fact that it was literally in the middle of a chaotic and busy city (not my cup of tea), but that the majority of the people who were involved in the community page (which I followed for updates), acted very entitled and complained a lot. They would start petitions to get the scooters back once they became banned, and they were very angry that they couldn't have access to rentable scooters within the 1.3 mile radius "city". I remember the only comment I ever made on that forum was; "Why do you need those when we have complimentary bike rentals, a free shuttle, our own cars, a bicycle shop, and our own feet to walk within the 1.3 mile radius to/from the shops?". I got a lot of backlash from that comment, but it just made me realize that likely, none of these people had ever been to Somalia or even an impoverished city or town within the USA enough to know what they have and how grateful they should be for what is already at their fingertips.
Ahh, I got off track. But you catch my drift, I had to leave, so after my year lease, I did. I headed to Boulder, Colorado August 2018 to train for Ironman Florida and it was there that I lived in a $1,000/month, 100 sq/ft room with construction just outside my door that led to silverfish and spiders that would nip me in the bud pretty badly during the night. There was no heat at times, and on a couple of occasions, I'd get a strange knock on my door at 2 in the morning from a person in a dark hoodie. Yeah, those nights were tough at times, which is why after three months, I left to secure a 3 month Airbnb. This place was a steal, and a nice little break from the hard work I'd achieved from two business deals that came through. It was in this 2,000 sq/ft home (correct, much to huge for just myself – but I got a 60% discount that fell into buy budget, so how could I resist?!) that I had felt the happiest I ever had in years. I was able to focus on my work and wake up to the most fantastic sunrises. I'd fall asleep, literally, to the sights of shooting stars.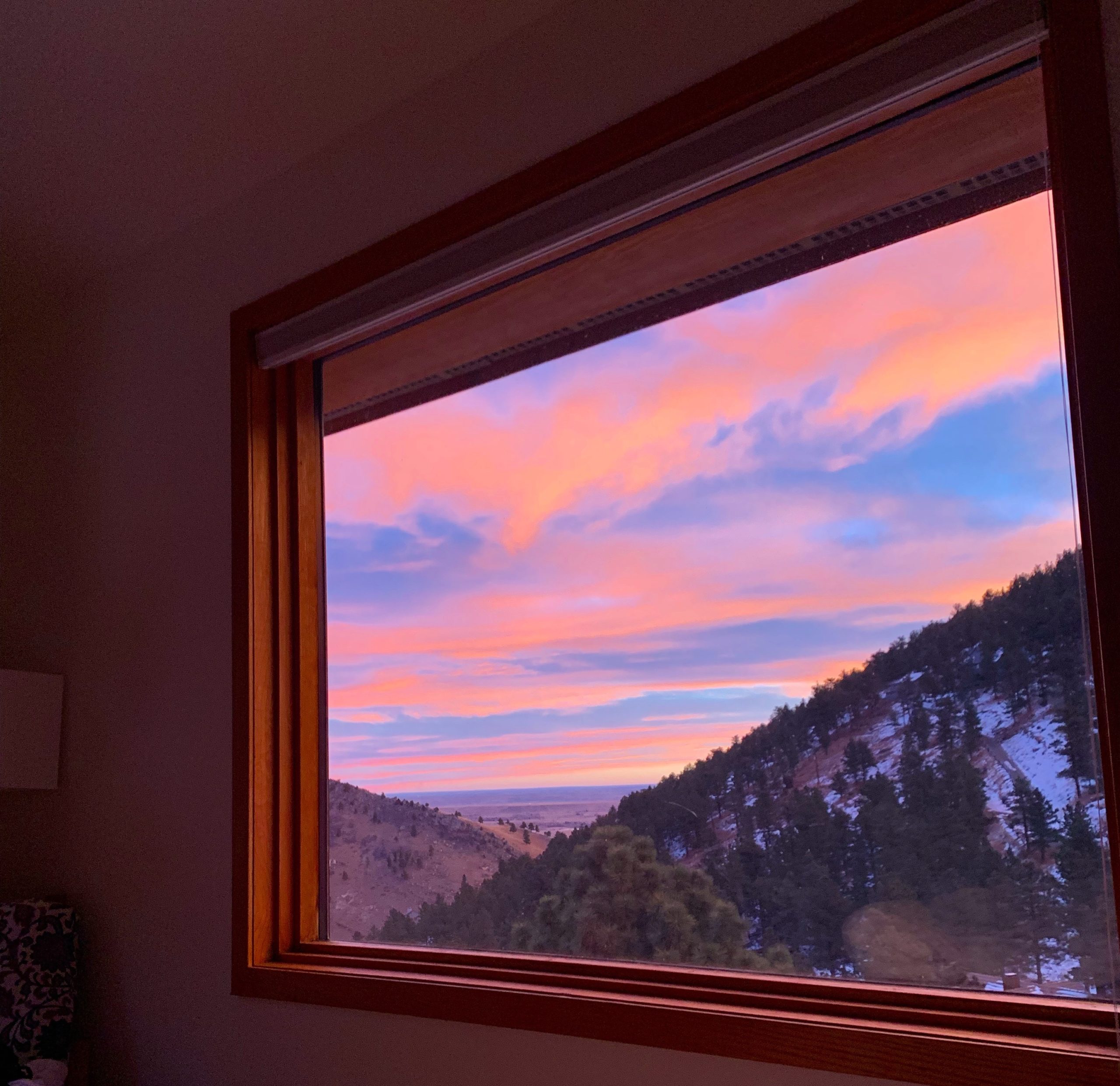 It was here that I was able to rejuvenate myself before leaving to move back to LA. This time, I chose Malibu, as it had been a goal since high school to live in Malibu by 30. I always thought it was the most beautiful place in the world (for the record, I still do). I found a steal, within my budget, and on the ocean. Yep, you heard me… on.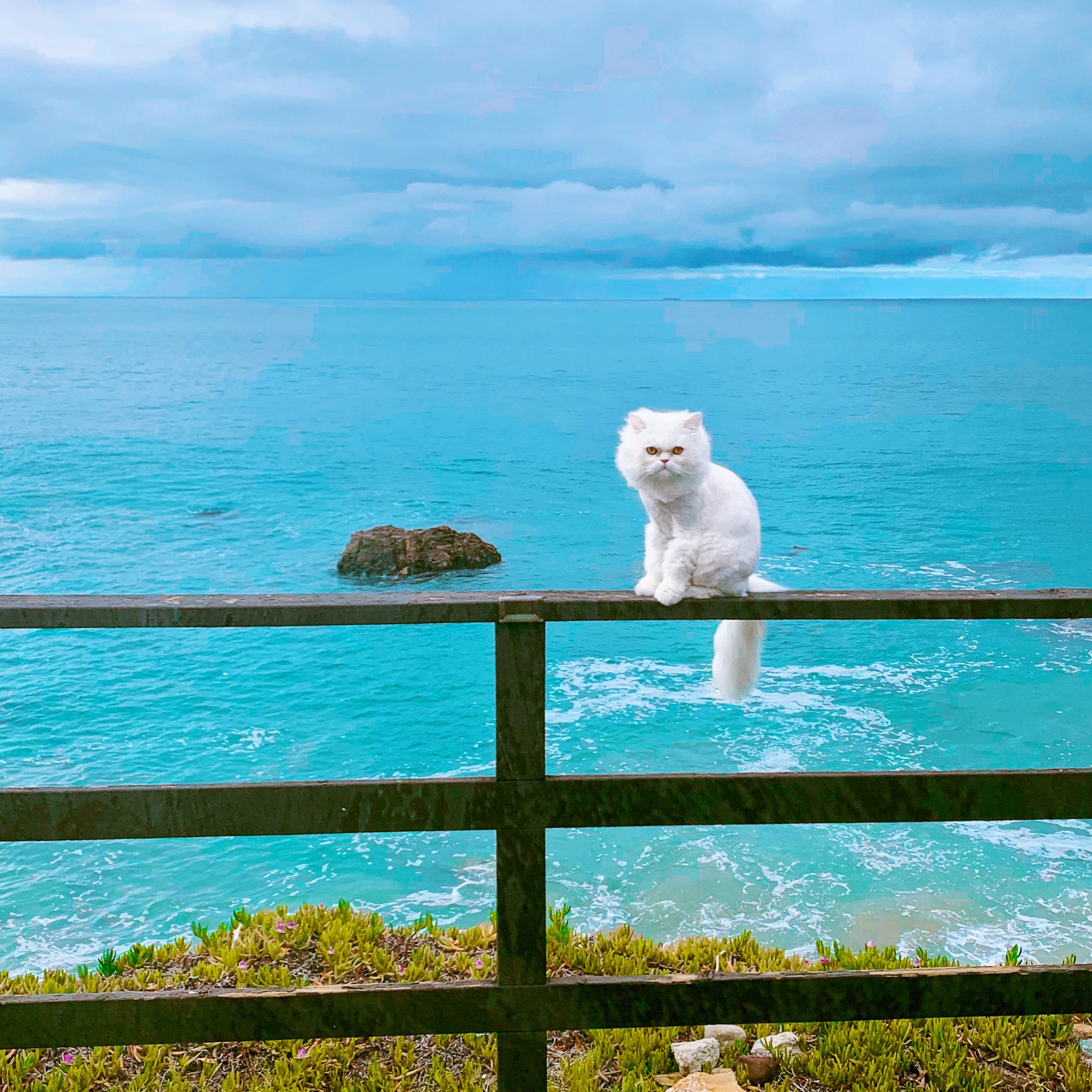 While yes, I am grateful to have had the means to afford living in such places temporarily, they did come with pretty severe repercussions. The rental in Boulder accused me of stealing things from the home, and demanded hundreds of dollars from me as a result. I couldn't believe it. But it was being wrongfully blamed for something I didn't do, that made me realize that whenever I rent an apartment or Airbnb, I need to hold a daily newspaper in front of the camera and film every aspect of it, from check-in, to check-out, in addition to having a witness present. I'd never been blamed for something I didn't do with any of the 40 or so Airbnb's I've stayed around the world, and while my experience in Boulder at that home was one of the best of my life, it ended in rich disappoint.
When it came to the Malibu home, I had signed, and paid for, a 6-month lease. A bit untraditional, but I didn't want to have to deal with any stress with monthly rent as I embarked on my triathlon record attempt. I would wake up in the mornings, around 4am, from these very sad, sick, strange sounding "meow's" from Kishmere. They were very deep and long sounds and would last for 10-20 minutes. They woke me up at that time every morning. It was SO strange hearing him meow like that, as he never had (and never has since we left that place), but I just brushed it off thinking it was the ocean waves he was waking up to (even though they would pound all night long). I noticed that I was starting to feel very tired and energy depleted more days than not. I was physically sick (flu-lung-type thing) twice in those six months, and I never get sick. I was having this brain fog and it just kept getting worse. After talking to my parents and friends about it, everyone advised me to leave. Mold began to accumulate in the shower very quickly after cleaning, which I thought was probably normal considering the humid, salty air. In actuality, it shouldn't have accumulated if the home had proper insulation and safety checks. I noticed my computers experiencing the "blue screen of death", and when I would clean the film off of them, or my mirrors, which would also accumulate quickly, I'd noticed it was salt (yes, I tasted it to be sure). This, along with a constant nuisance of ants that would never cease to go away despite gluing the cracks and constant cleaning, as well as my car being broken into twice over the course of three months, led me to get the hell out of Dodge. Upon packing and leaving, I found the below, hidden behind a piece of furniture. I had been breathing this in, for 6 months…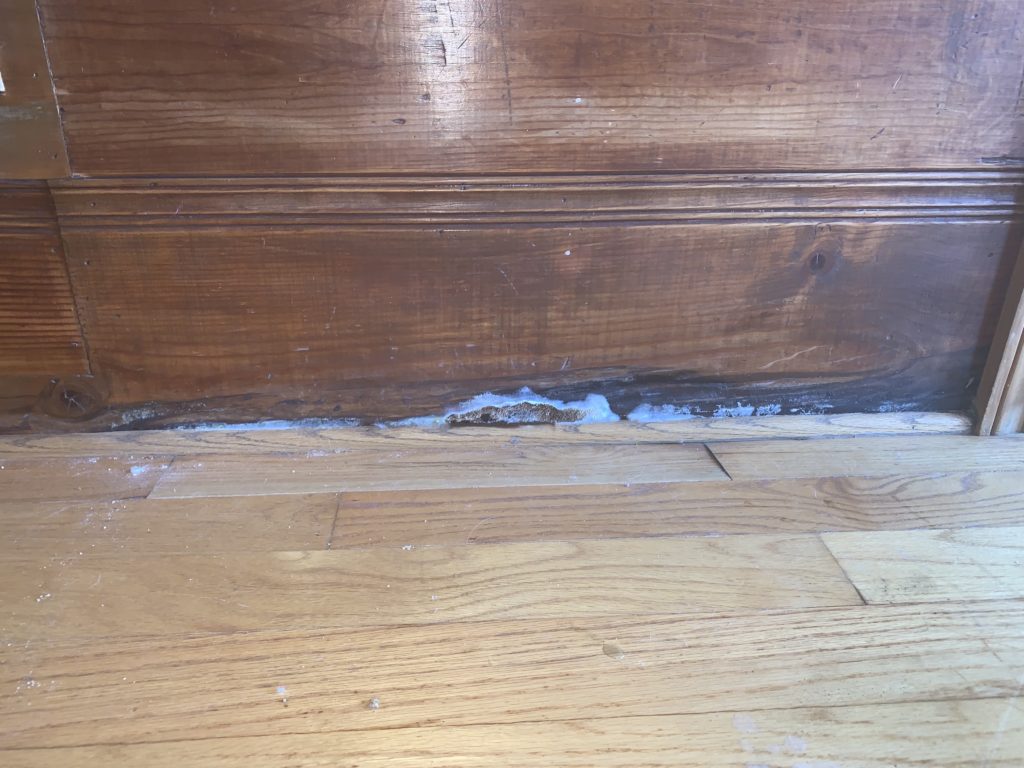 Both Kish and I got really sick from living in what was actually back mold for 6 months. It hindered many things, including my moms health as she stayed for one month to watch Kish while I was gone. It also ruined the timing of my record attempt. No, I did not even get my full deposit back, nor a call or an apology from the landlord. Unfortunately, she's a literal billionaire who wins any lawsuit she's up against, so I'd have no chance. I simply had to let this one go.
Welcome to my new home!
This place was yet another steal. It was under my budget, allowing me to save for the next phase of my life, which does involve quite a bit of investment, and I was very excited about that.
Below was my list of musts and must not haves:
Must Have:
Hardwood flooring throughout (easy to clean Kish's hair)
Bathtub (which I didn't have in my last place, or first in Boulder – and need with all my training)
Standalone house (charm, peace and quiet)
Full kitchen (which I didn't have in my last place, or first in Boulder)
Washer/dryer (necessity)
Porch (can't not have one after my last two places – to train)
Bathroom counter space (hey, I'm 30 now)
Bright (as a content creator, natural lighting is important)
Fireplace (I found that more places than not in the SoCal areas do have these included in even cheaper rentals, so I decided to include it as a must-have for cold winter nights)
Away from people (people scare me these days with all the break-ins and harassment I've experienced this year so far)
Close proximity to airport (with that said, I do need to be close-is to an airport for travel)
Safe parking, ideally personal garage
Heating & A/C
No mold
No insect problems
Surrounded by nature
Quiet (no car noise, people noise, and only light nature sounds)
A Plus:
Farmhouse sink
Walk in closet
Yard
2 bedroom
Must Not Have:
Not in an apartment complex, high rise, or guest house
Can't be in the city
Carpet
Street parking
To my luck, this place was in my budget, met all of my needs and also has a farmhouse sink, walk in closet, and a yard (that of which will be a separate post)!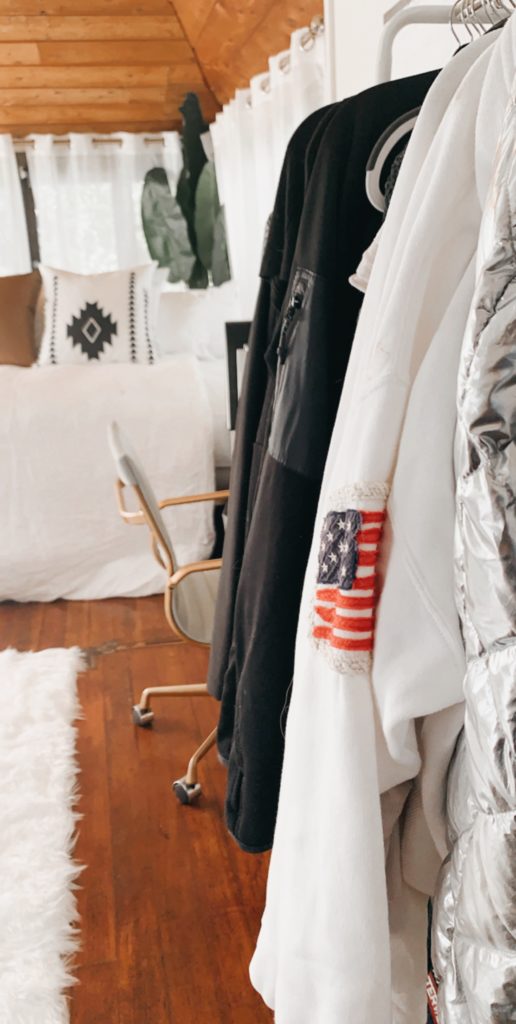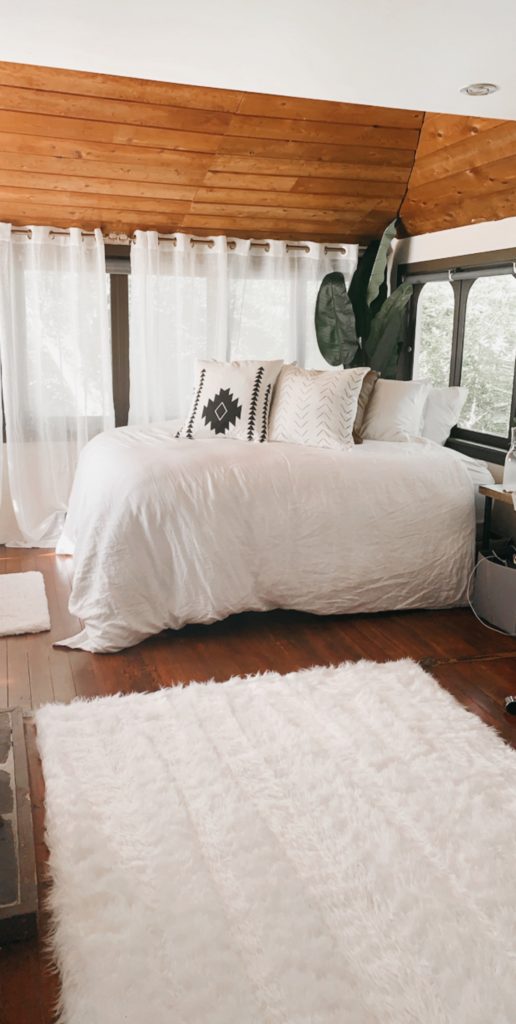 So, without further ado, I'd like to welcome you to my new home in the trees!
Every accent I've chosen, I've collected over the years as pieces that I'll have with me forever. I've tried to stick with the white and gold theme, however, have recently moved more towards a modern farmhouse Scandinavian sort of style with a touch of tribal patterns throughout. I'm not sure what has drawn me towards this sort of inheritor design, but at the core, I just want certain elements of the outdoors and my travels to come to life through my living space.
The sham covers I was able to snag from Amazon (link). They're 22 inch squares, and are worth the investment given how much life they bring to this corner of the home. I've filled them with down pillows, also from Amazon, and also 22inch squares. You can shop this room here. Some of the bedside table trinkets (or similar) can be found here.
I love greenery, and this (fake) plant made just the right touch to bring the outside, in. Unfortunately Kish eats plants, so this big one had to be fake.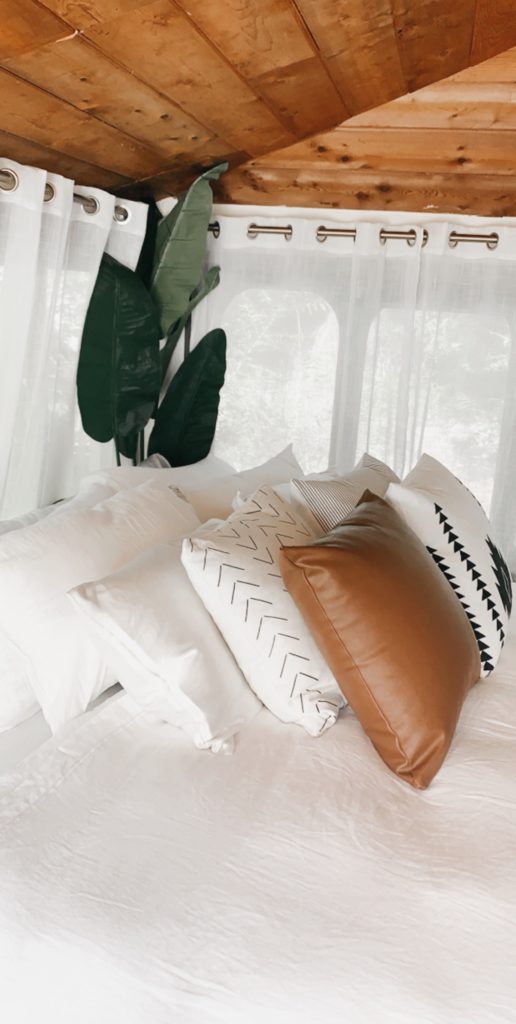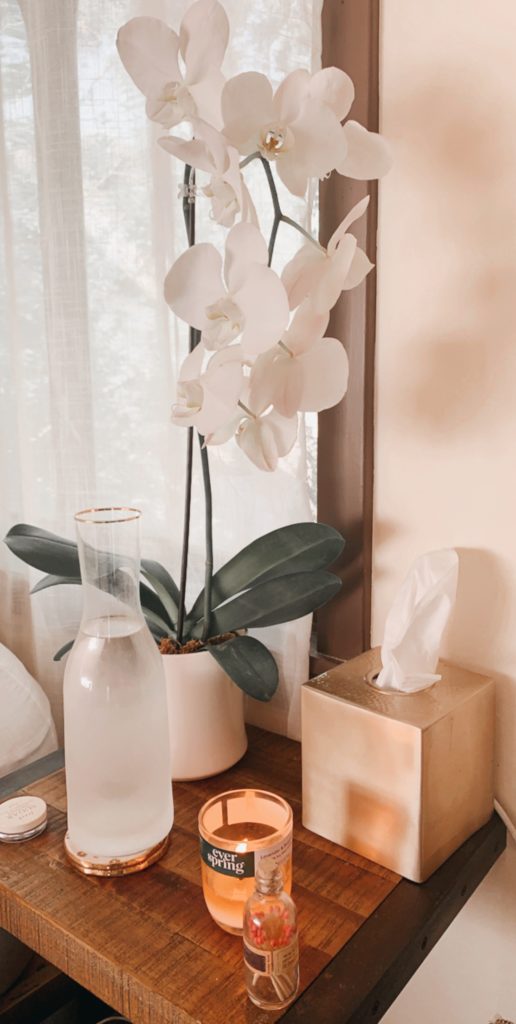 All in all, I was aiming for simplicity and comfort with a touch of simplistic style. I really think this decor could fit any bedroom, no matter the color or space, as these earthy tones go really well just about anywhere
.
Mind the clutter, whoops! Actually, this was the best I could get the place given I'm in the middle of a big work week at the moment (catching up on lost time from the move). Unfortunately, this home is only a studio, so I had to make do with the space. Thankfully, all of the things I need to run my business are on the computer, so, with the exception of some PR packages and (too many) calendars, I am actually okay with this home office space. Again, I wanted to keep in line with the earthy/gold tones, so these  various tones of grays and brasses I feel like, tie the place together. Link here for all the trinkets and furniture.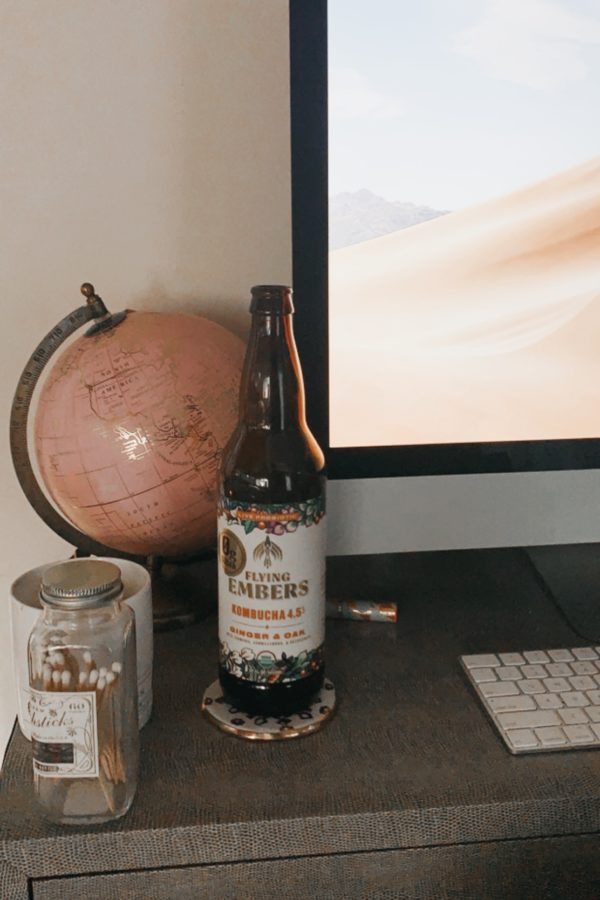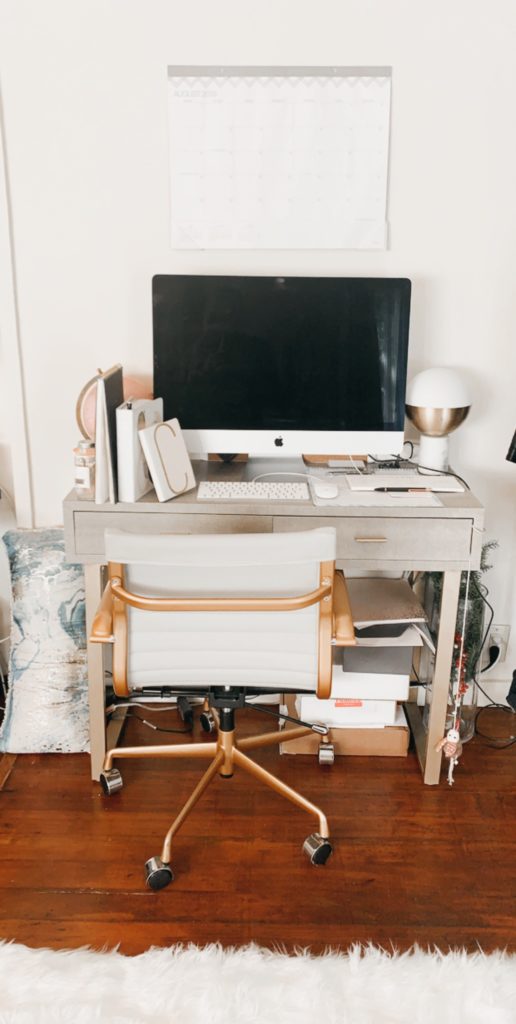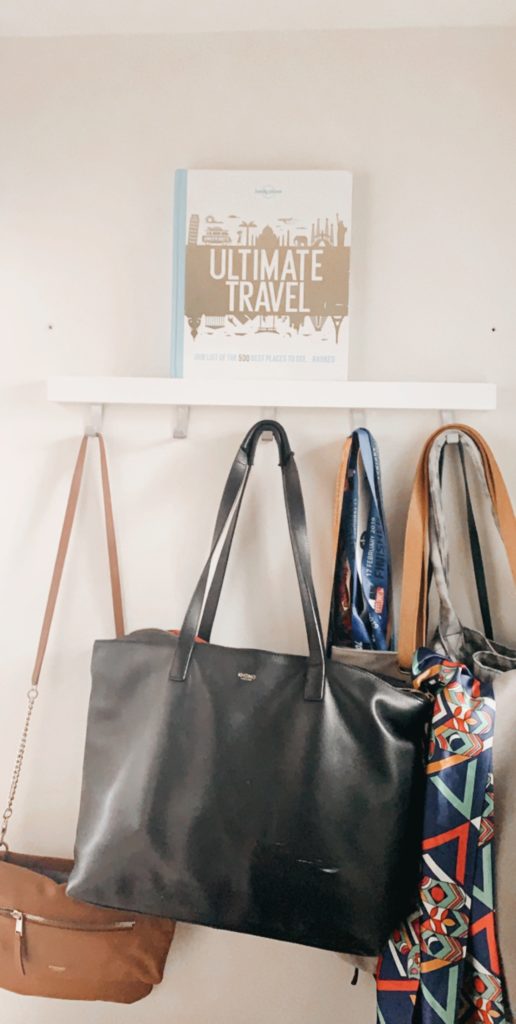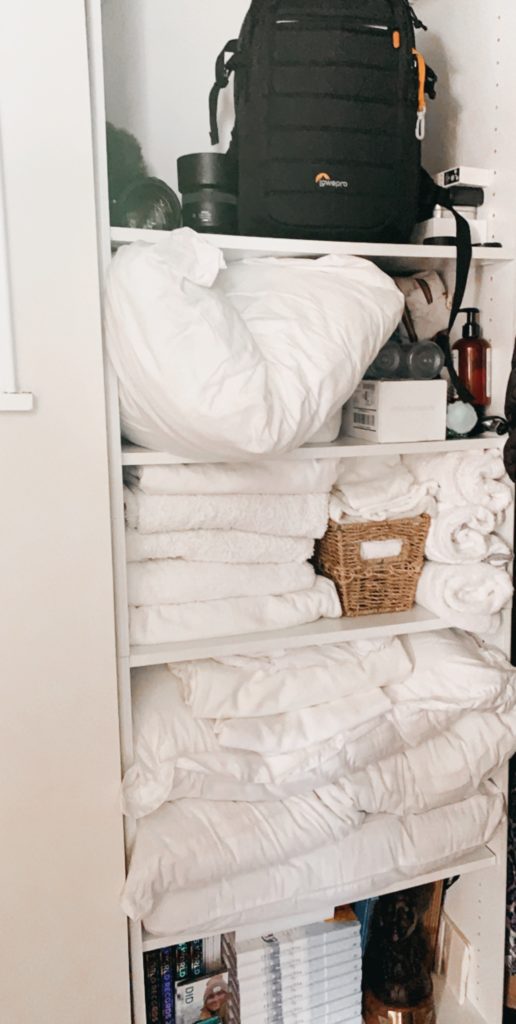 Okay, so maybe this room isn't the ultimate glam room, but for now, this little walk in closet will work. 
What I will say is that I am grateful to have any sort of walk-in closet given the amount of readily accessible triathlon and photography equipment I need to be able to grab quickly. I've tried to make this as organized as a closet as possible, given the space and amount of things I have, and I think I did an okay job at it. I don't actually have a ton of clothes or shoes, which made organization a bit easier. 
I will, however, say that over the years I've become very selective about having fresh linens and towels at my disposal when needed. There's nothing worse than old, hard, towels or linen since we sleep in and use these things daily. 
Below and above the linens and towels, I have my camera equipment and on the bottom shelf, books and things from my Expedition (signed copy anyone?).
To the right, which I'll spare you, is the great majority of my training gear and equipment for bike, swim, run, as well as a few articles of clothing and some shoes.
This house came with a wood-burning oven, which I was super excited about. Per the above, I was seeking a home with some sort of fireplace. It seems bougie, but growing up in Connecticut and having traveled all over the world, there is nothing more comforting in the winters than sitting by the fire with a coffee in the morning, or a glass of wine in the night. 
It is a bummer that I can't keep the door open to watch the fire, but perhaps there's an alternative for being able to (installing fire-protectant glass or something). Either way, this thing hasn't been used by the last two tenants, which means it's been years, which means that I can't even think about using this until I hire a professional to clean it out and make sure it's safe to use. 
With all that said, I am very stoked for this little piece that I think adds quite a bit of charm :). 
Great hygiene is obviously important, but so is relaxation in a place you feel safe and calm. The last place I lived had a bathroom that encompassed a toilet, a small sink (no counter space), and a 7ft tall x 2ft square, mold filled shower. The floor looked like it was moving with ants half the time despite myself and maintenance trying to rid them, and there were very questionable stains on the wallpaper. I walked in and every time felt dirty. A moldy shower couldn't make me feel the least bit clean. Woof, bad memories. 
Alas, I've finally secured a charming, clean, bright and peaceful bathroom that I enjoy walking into every morning and evening. While of course, it's not my dream bathroom, it most definitely will suffice for now, and I've been able to be a little bit creative with making it my own little sanctuary.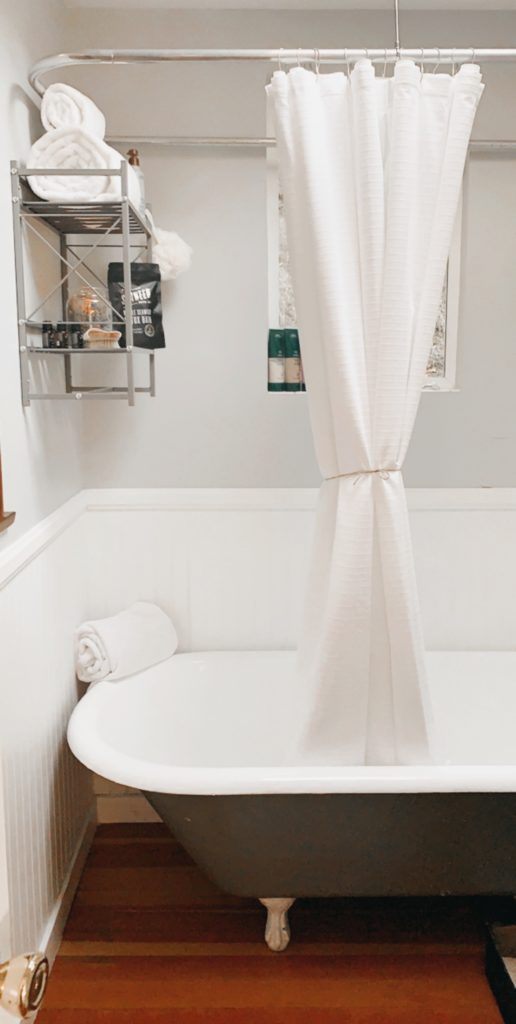 I'll do a future post on my "spa regimen", but for now, I was able to add this little shelving unit above the tub that holds a few extra towels (can't have enough), some bath salts, a candle, a dry brush, sponge, and aromatherapy.
I always use a towel as a pillow while in the bath. I did purchase one of those bath pillows at one time, but found that it just got gross after a few uses and required a ton of washing, which was cumbersome with having to take the cover on/off (they had it on tight). So I just swap out a towel every day or two. It's more comfortable, I find, as well. The curtain is tied with a piece of woven string, which I think looks lovely.
Beside the loo is a basket stuffer with TP and again, extra towels. There's nothing worse that running out of either while using the restroom.
I placed Kishie's (my cat) litter beside the tub, and since I work from home, I clean it every time he goes. If a stranger walked in here, they'd have no idea that I had a cat, I keep it that clean. Trust me, I'm not the type of cat lady who loves to bask in the scent of cat piss… I need my place clean and smelling divine. 
The door stopper for the bathroom door (which I keep open all the time, unless I have guests over) is a piece of wood that actually sat next to the wood-stove when I moved in. I love it, and think it really accentuates that rustic of the place.
The kitchen is such an important space to me. I'm incredibly into home cooking and meal prep and it makes all the difference in the world when I have a large, clean space to cook in. This kitchen is the perfect size for me at this point in my life, especially considering that my last apartment didn't even have an oven or full fridge. Feeling extremely grateful for this right now.
The skylight, like the bathroom, just opens the space and gives way for all the light in the world needed to prepare, dress and photograph dishes (if that's your thing). But believe it or not, there actually isn't much storage in here. The glass cabinets, while stunning, don't leave much room for clutter. Which is why I opted for a kitchen island to store more of the pots and pans, along with some other things that don't necessarily need to be on show.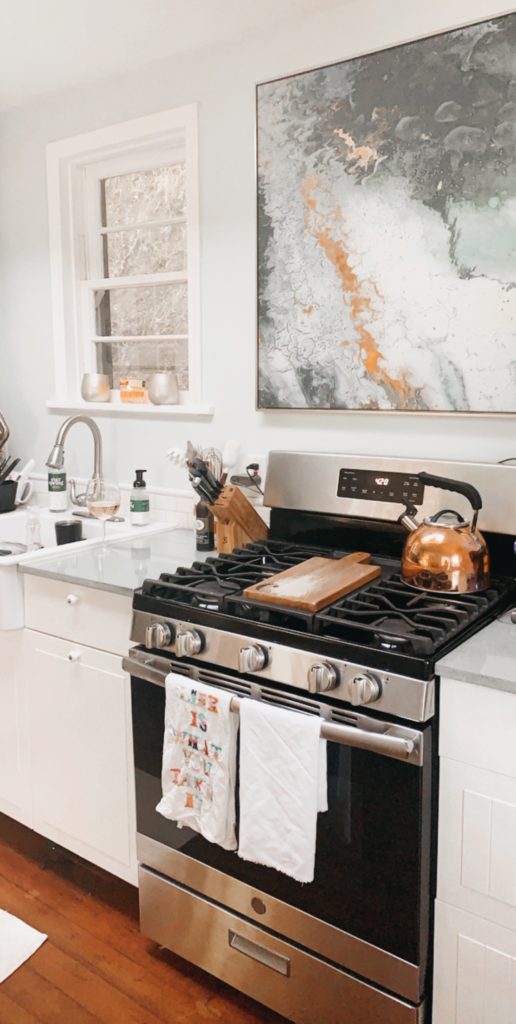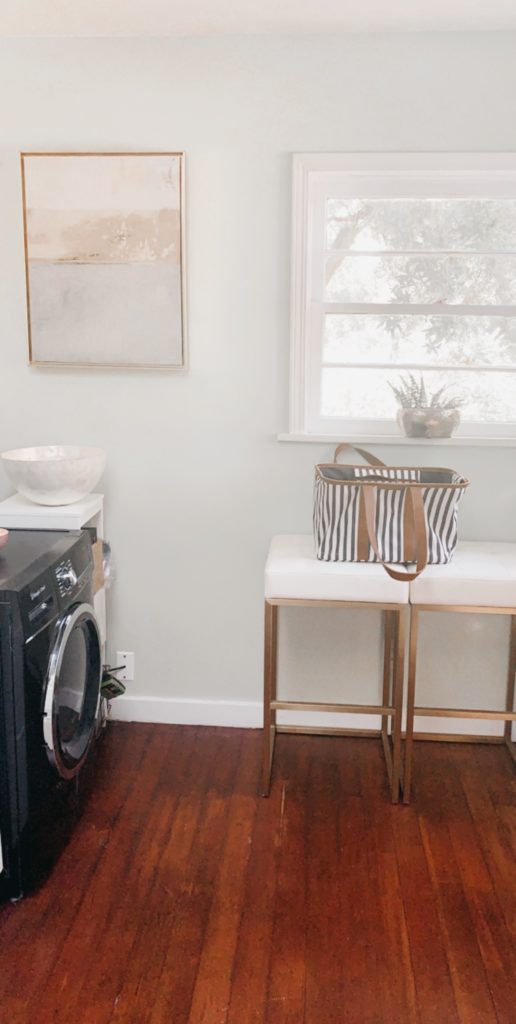 Here's a link to some of my favorites in the pictures for the home: