This is going to get very personal for me. In this blog, I'm going to be discussing human connection, natural selection, trends, and disability. At the end of the day, we want our human species to survive, thrive, and live for thousands more years. And yet, we all individually suffer setbacks (however you want to classify that) as well as physical and mental challenges that for some, might be out of our control. The fight comes when all we ask for is acceptance, understanding, or for others to be educated on the topic, yet they are not. This can be left feeling misunderstood, not heard, inevitably leading a person down the rabbit hole of depression, something that many people are born with, yet does not come to surface until a life-altering event occurs. 
Today, I want to talk about Emotional Support Animals (ESA), and their reputation. But first, let's clear the air regarding the difference between an ESA animal, and a Service Animal. A Service Animal can only legally only be a dog, and is classified as the following (source);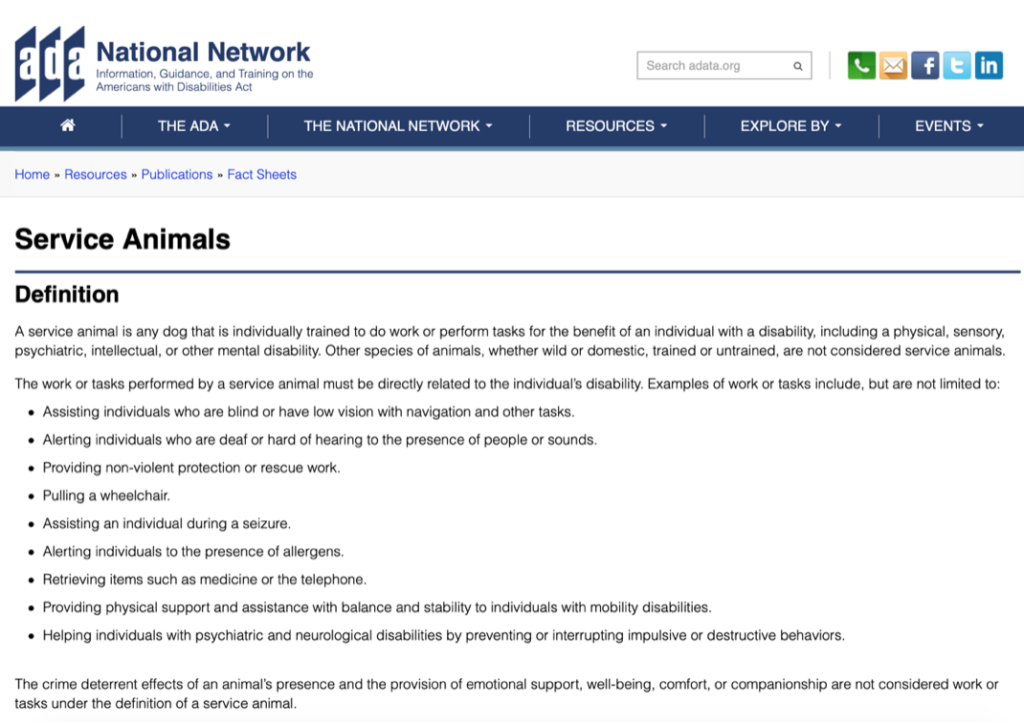 The main difference between a Service Animal and an Emotional Support Animal is that the Service Animal can perform physical tasks to assist it's owners "physical, sensory, psychiatric, intellectual, or other mental disability". Below is the definition of an ESA animal (source);
When I write these blogs, I favor being unbiased, and instead, proving my point through factual data instead of opinion. I personally want to add, however, that I completely comprehend and am in agreement of what classifies a Service Animal and that yes, many species of dogs can in fact perform the responsibilities listed above, in order to ensure that those with both physical and mental disabilities, can carry on with their lives more effectively when in the presence of their trained, Service Animal.
First though, to sum up what types of animals can be classified as 'Service Animals', I'd like to be clear in stating what the ADA states, in that, "A service animal means any dog that is individually trained to do work or perform tasks for the benefit of an individual with a disability, including a physical, sensory, psychiatric, intellectual, or other mental disability.", they go on to say that "Under Title II and III of the ADA, service animals are limited to dogs. However, entities must make reasonable modifications in policies to allow individuals with disabilities to use miniature horses if they have been individually trained to do work or perform tasks for individuals with disabilities.". 
… Essentially, a Service Animal is only limited to a domesticated canine (dog), with the exception of a miniature horse. They do not provide the opportunity, however, that chimpanzee's, parrots, orangutan's, or pigs, for example, to be classified as an option for a Service Animal. All of the above listed animals, have the physical and mental capabilities to carry out assistance for humans, in a much more efficient and understandable way, than dogs can. Pigs, for example, according to Peta.org, "outperform 3-year-old human children on cognition tests and are smarter than any domestic animal, and animal experts consider them more trainable than cats or dogs.". And we all know how intelligent chimps are. Parrots can scream for help in emergency situations… in any language we teach them. And orangutan's are now considered to be the smartest of the primates, over chimps. But who has a chimp, orangutan, pig, or parrot as a pet? I guess the question is, if a Service Animal is to serve, why isn't the ADA considering some of the most intelligent primates as serving? Why are they only considering dogs and maybe miniature horses? 
While I couldn't find any data to support these questions, I'm just going to make an educated guess in that, both domesticated cats and dogs are normal comforts for humans, especially in the Western World. Any legitimate excuse to bring our beloved pets with us and make them an integral part of our lives is desirable. To be able to train them into "Service Animals" to potentially save lives through working for individuals in need, that would be the ultimate goal. We'd get to have our favorite type of domesticated animal with us at all times, and train them to the best of their capabilities to care for us. The ADA, I'm guessing, feels the same love for the domesticated canine, and like so many people, is likely bias to rather considering animals with a much higher IQ and greater likelihood of learning and behaving, to assist individuals in need.
To only consider dogs, and perhaps a miniature horse (which also looks and acts like a dog), is a bit bias to what a selective few other animals can achieve when it comes to service and support, don't you think?
The limitation at which the ADA classifies "Service Animals", when we consider all of the above, is that in reality, they're not actually considering the integrity of individuals who require support from an animal in order to perform daily duties consistent to that individuals strong survival. Being able to only train dogs, has not only limited the assistance that individuals in need are able to receive (since we've already clarified pigs and chimps can offer greater assistance to humans than dogs), but has also resulted in a mix of emotions from those who wish to bring their domesticated dog who also serves a mental, psychiatric purpose, into public places. Which brings me to ESA animals. 
What kind of animals can be considered an Emotional Support Animal?
Unfortunately, the ADA does not list what kind of animals can be considered ESA animals. They only mention the following; "Other species of animals, whether wild or domestic, trained or untrained, are not considered service animals either.". However, a basic Google Search, lead me to an article by the Michigan State University Animal Legal & Historical Center, whereby they state the following in response to the question of whether or not animals other than cats and dogs can be considered ESA animals;
"Yes, an assistance animal is not limited to a cat or dog. HUD specifically states that "[w]hile dogs are the most common type of assistance animal, other animals can also be assistance animals." (FHEO Notice: FHEO-2013-01 at page 2). Again, the assistance animal will undergo an individualized assessment to determine whether the assistance animal in question poses a direct threat to the health and safety of others. A wild or exotic animal that poses a greater risk of attack or disease to other residents could be denied based on this individualized assessment. It should be noted that a case in 2015 considered the use of a miniature horse as an assistance animal under the FHA and a case in 2012 dealt with a guinea pig as an assistance animal (find links to these cases here)."
In sum, any animal can provide emotional support to someone with mental illness, however, only a dogs and miniature horses can provide service support to someone with mental illness.
I want to talk about mental illness, specifically, because the various forms of mental illness cause debilitating effects to human beings on such a large scale, and I'll admit, I'm confused as to the ADA's definition of a "mental disability" and which animals can qualify to assist. My first question is the following;
What is the definition of a 'mental disability' vs 'mental illness' vs 'mental disorder' vs 'mental condition'?
When considering whether your dog can clarify as a service or ESA animal, it can be hard qualify, if you're unsure of whether you fall under the requirements of having a mental disability. What about if you have a mental illness or a mental disorder? There are many definitions to consider when needing to be precise and confident in what psychological issues you are facing, when it comes to obtaining a service or emotional support animal.
 First of all, a "disability" is defined as the following (source);
"a physical, mental, cognitive, or developmental condition that impairs, interferes with, or limits a person's ability to engage in certain tasks or actions or participate in typical daily activities and interactions"
A "mental condition" is defined as the following (source);
"disorders that affect your mood, thinking and behavior."
A "mental disability" is defined as the following (source);
"a condition that limits a person's intellectual capacity, resulting directly or indirectly from injury to the brain or from abnormal neurological development"
A "mental illness" is defined as the following (source);
"Mental illness, also called mental health disorders, refers to a wide range of mental health conditions — disorders that affect your mood, thinking and behavior. Examples of mental illness include depression, anxiety disorders, schizophrenia, eating disorders and addictive behaviors.
Many people have mental health concerns from time to time. But a mental health concern becomes a mental illness when ongoing signs and symptoms cause frequent stress and affect your ability to function."
A "mental disorder" is defined as the following (source);
"A mental disorder, also called a mental illness[2] or psychiatric disorder, is a behavioral or mental pattern that causes significant distress or impairment of personal functioning.[3] Such features may be persistent, relapsing and remitting, or occur as a single episode. Many disorders have been described, with signs and symptoms that vary widely between specific disorders.[4][5] Such disorders may be diagnosed by a mental health professional."
Through my research, it's clear that mental illness and mental disorders essentially, go hand-in-hand. However, a mental disability is of it's own caliber. This begs the question…
Is depression considered a mental disability? 
The American Psychiatric Association has acquired international experts in all aspects of mental health to release a research manual called the "The Diagnostic and Statistical Manual of Mental Disorders (DSM–5)" that provides guidelines for doctors and clinicians for diagnosing psychiatric illnesses. In it, states that persistent depressive disorder also includes chronic major depression, and;
"Depressive disorder with mixed features, also known as a mixed episode, a mixed state, or agitated depression, is a term used in the 5th edition of the Diagnostic and Statistical Manual of Mental Disorders (DSM-5) to describe a condition in which the symptoms of both depression and mania exist at the same time. If you have this condition, you experience mostly depressive symptoms, but you also have certain manic symptoms, such as racing thoughts." (source)
According to gov.uk, a mental health condition becomes a disability when "it has a long-term effect on your normal day-to-day-activity… if it lasts 12 months.", they also state "
There are many different types of mental health condition which can lead to a disability, including:
dementia
depression
bipolar disorder
obsessive compulsive disorder
schizophrenia" (source)
It's clear from the DSM-5, and the government of the UK if that holds any stature, that depression is in fact a disorder. 
If depression is considered a "mental disability" and therefore recognized by the ADA for the individuals use of a Service Animal (dog/horse only), and Emotional Support Animals (any domesticated animal) are intended to "help with depression", why can't my cat, for example, be classified as a Service Animal?
As we've concluded in the beginning of this blog, a "Service Animal" is a dog that is individually trained to do work or perform tasks for the benefit of an individual with a disability. So how do you train a dog to do work or perform tasks to benefit an individual who suffers from a disability such as depression?
Let's dive deeper. According to Healthline and the ADA there is a difference between a physical and invisible disability;
Physical vs. invisible disability
According to the ADA, an individual with a disability must meet one or more of the following criteria:
has a physical or mental impairment that significantly limits the ability to perform one or more major life functions
has a history of an impairment that meets this description
is seen by others as having an impairment that meets this description
Unlike a physical disability that may be obvious due to the use of an assistive device, such as a wheelchair or cane, an invisible disability is an impairment that's not immediately apparent.
The term "invisible disability" encompasses many medical conditions (including mental and neurological) that are invisible to an onlooker. Depression is one of these conditions.
According to a 2014 report by the U.S. Census Bureau, 27 million adults were frequently depressed or anxious to an extent that seriously interfered with everyday activities.
If your depression meets the criteria set out in the ADA's definition of a disability, you qualify to have a service dog for depression. (source)
As coherently wrong as it is to even mention an "invisible disability", this still does not list what a Service Animal can specifically do to benefit an individual with depression.
I'm going to make the assumption that both Service Animals and Emotional Support Animals who benefit their owners with the disability of depression, do so with their sole presence, nothing more, nothing less. And that if an individual has a diagnosed depression disability, that the animal that supports them should have all of the same rights as a Service Animal. Period. Currently, if a dog or horse can assist it's owner with depression and be considered a Service Animal, and any domesticated animal can assist it's owner with depression and be considered an Emotional Support Animal, shouldn't ESA animals that perform the same tasks as a Service Animal when it comes to depression, have the same rights as a Service Animal? To at least be allowed in public places?
Anthony Bourdain committed suicide in his hotel room. ESA's are not allowed in hotels let alone hotel rooms. Had Bourdain had with him a cat or ferret, perhaps he wouldn't have committed suicide because he had the support and comfort of a living being there with him in the same room.
Kate Spade hung herself in her Manhattan apartment. Some apartment complexes, such as the one I lived in, failed to recognize the legality of ESA's and how they are legally permitted to live in the household without any pet fees associated. This obviously wasn't the case for Spade, but for some, paying a monthly pet fee of $50-$150 dollars on top of rent for that apartment to not recognize ESA animals (illegal) can be sometimes, too financially cumbersome for that tenant, forcing them to forego living with an ESA of their own and in some cases, succumbing to their depression.
How my ESA saved my life.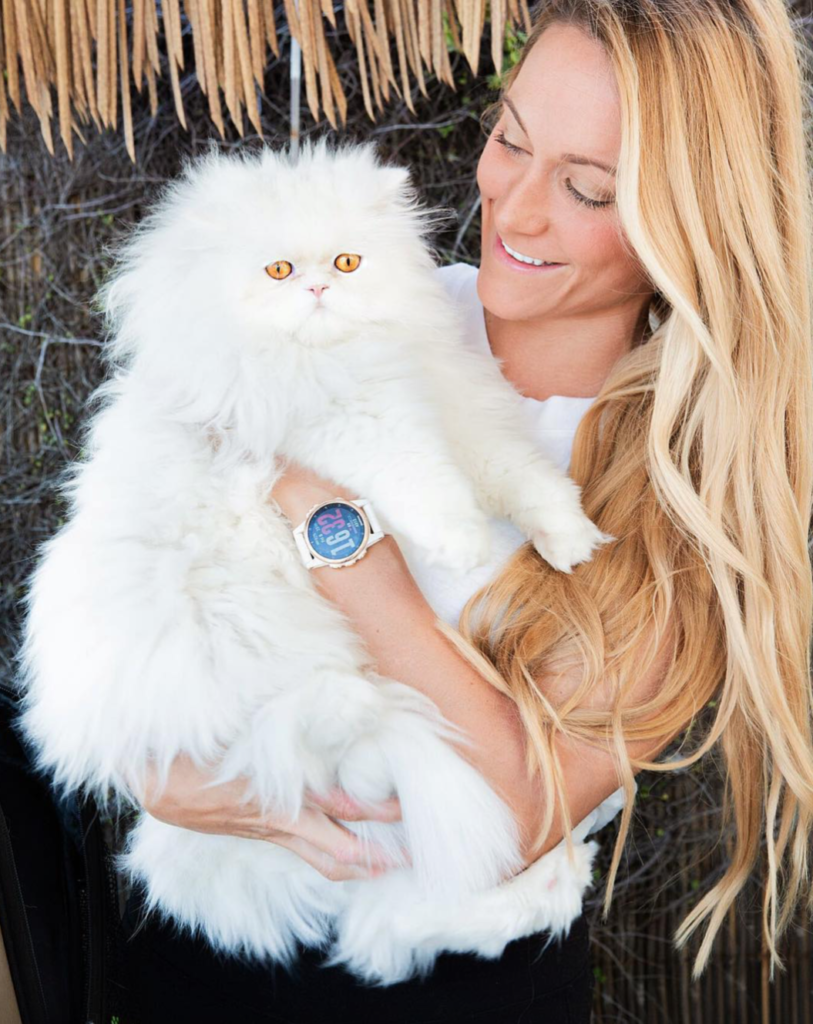 I'm going to be completely transparent with you in the hopes that I can help someone else out there who might be going through the same thing and is looking for answers. Since the age of adolescence, I've suffered from these thoughts that I knew from a young age weren't normal. They weren't even necessarily thoughts as much as they were feelings. I  noticed myself falling in and out of melancholic feelings and thoughts leading me to plan the end of my life. I don't know how or why this came about, when I was raised by a loving parents, and my brother was normal. I couldn't talk about this with anyone in fear that I'd be displaced to a mental institution of sorts, or put on pills, neither of which I wanted because I thought it'd negatively affect my friendships, sports and career-drive drive that I'd always embodied. So I carried on and tried to preoccupy my mind as much as humanly possible through travel, studies and work, until I inevitably had to face the facts when I was 21. My brother noticed and was able to pick up on what I was experiencing and confronted me about it. That was the time in my life when I decided to close myself off to others due to not being able to be transparent about my feelings about what it was I was going to, that I knew they wouldn't be able to relate to.
Flash forward 21 days surviving naked in the jungle resulting in thousands of hate mail and death threats, and traveling every country in the world, also resulting in thousands of hate mail and media (among the wonderfully positive ones), I decided to not only confront the depression that had built up over the course of my life, but speak up about it. Doing so lead to a six-month silence between my family and I, and even more online hate. In the summer of 2018, I made the decision to succumb to my depression. All of the debilitating thoughts and feelings that had built up over the years had lead to the day where I would take my own life. While I do not feel comfortable sharing with you the details of each suicide attempt, to make my point, I will describe the first. The first was to be a suicide by hanging. As I was carrying out the act, within the first 30 seconds of doing so, I hear "meow". I quickly look over to witness my ESA cat sitting right across from me and looking at me, meowing. I had gotten this cat a year prior to help with my mental health and depression. He really did, but the true test which I didn't even realize at the time, was if he was capable of saving my life if the situation ever presented himself. And he did. He woke me up, so to speak, and it was a massive wake up call to what I was attempting to do to myself, and to him as well – leaving him to be cared for by someone else instead of me. Since I can already taste the hate I'll receive from people saying "she doesn't deserve an animal if she's going to leave it to die", or "that animal is not safe with her if she's suicidal", I want to be clear. I had made all of my preparations prior to following through with this attempt, and of the many preparations, he was one of them. I had scheduled a friend to come over the next day, and I had left a note. I had left out gallons of food and water even though it was a day, and my parents were going to care for him (since that was always the plan in case of emergency anyways). But even thinking this all through, I couldn't help but feel terrible to be leaving such a precious animal that had helped me incredibly so mentally, and after that experience, I realized I could never allow him to see me in that personal degrading state every again. That day, he saw what I was doing to myself, and he took action. 
Whether or not people think depression is invisible, depression leads to suicide in many, many cases, and that surely is not invisible. And whether or not people want to believe that ESA animals can really save a life and help mitigate the chronic symptoms of depression, doesn't matter. Facts speak louder than words. Physical experiences speak louder than words. ESA animals, whether in the form of a dog, cat, ferret or pig, should be awarded the same rights as a service animal, if the owner has a verifiable and diagnosed mental disorder. That, or, Support Animals should also include other forms of animals in addition to dogs and horses.
If my cat saved my life in an instance such as the above, how many other lives have ESA's saved?
This begs the question…
How much are we as a human species, willing to preserve and protect mankind?
If our goals are to eradicate diseases, stop murders, mitigate natural disaster effects on human life, provide clean drinking water, so on and so fourth, then our goal is obviously to save human life – to preserve and protect mankind. Even though our earths capacity is 10 million humans and we're currently at 7.7 billion, mankind still dedicates its life in procreating and expanding our population, preserving the strong and protecting our species. If humans are depressed, their likelihood to procreate diminishes substantially. Check out this article by The Atlantic, discussing the reasoning behind Japans low birth-rate, and that reason being depression. But besides the fact, if we're trying to eradicate this epidemic of suicide, shouldn't we be considering the things that mitigate depressive feelings and behavior? Not only medication and therapy, but animals as well? Shouldn't we be taking Service and ESA animals more seriously?
Thanks for your time. Let me know in the comments below what your thoughts are on this article.