New Year 2020 I was able to kick things off in beautiful Salt Lake City, a city I'd never visited, but had been so eager to for the longest time. Utah is one of my favorites states because of its vast and diverse natural landscapes; from Bryce Canyon to Zion to Arches, and all of the incredible mountains in between. I've driven across the states around a half a dozen times, and have visited most of the National Parks in Utah, and have even skied Deer Valley, but all my friends are in SLC and I was so excited when I had the opportunity to visit for the first time!
Upon arrival, I was so amazed at the timeless and classic luxury that each suite at The Grand America Hotel had to offer. From the marble bathrooms to the wallpaper and elegant pieces of art and even the bathrobes were so comfortable. First impressions of The Grand America Suite? Took my breath away.
Once the curtains were drawn, the view gave way to a sweeping mountain landscape with the city underneath. The clock tower added serene depth and made for a picture-perfect opportunity just outside on my personal balcony. Those balconies were so nice to have to get some fresh air!
Once I had a second to settle in, I decided to head down to the gym for a little workout before my Hyrdafacial at their world class spa. As a gym enthusiast, I was really happy with the fact that they had anything a triathlete could want in regards to both weight and cardio training. I was so happy to head down there every morning for my 5am walks.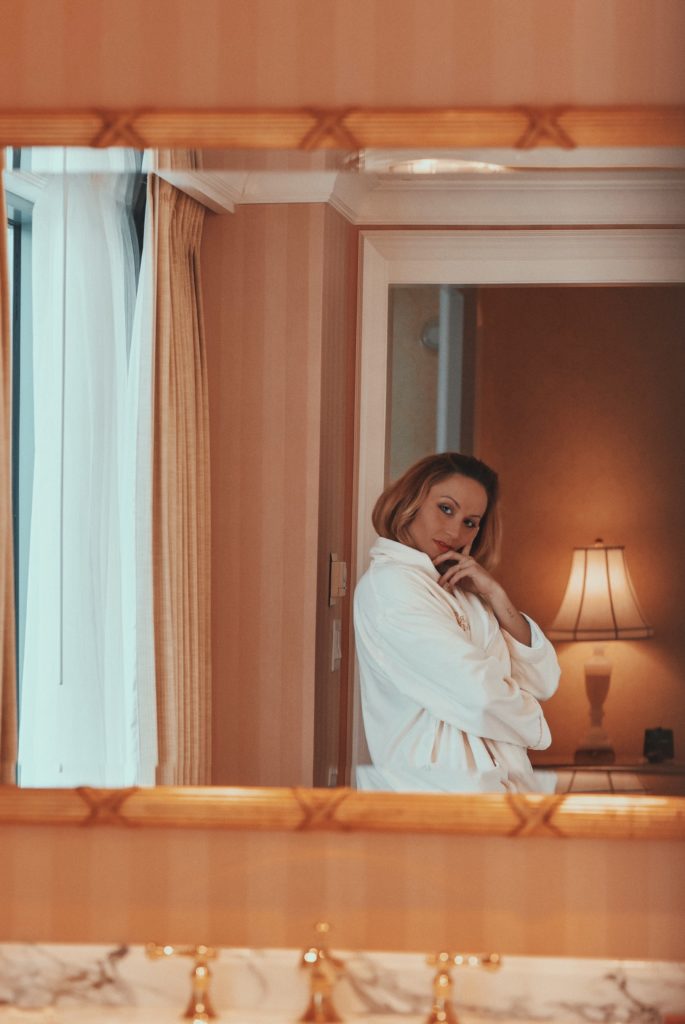 Next was the Hydrafacial, which I'd never had before but was super intrigued. The purpose of the treatment is to deeply hydrate your face with serums which, I 100% needed since SLC is very dry. I enjoyed the spa, 17 jet shower (!!), steam room, sauna and pool before heading on in. It was a wonderful experience and my face felt extraordinary after!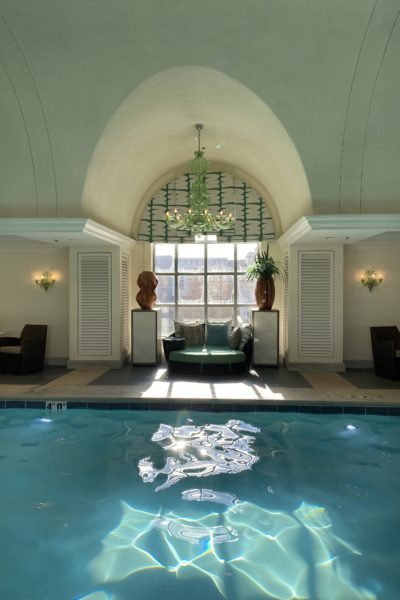 If you're someone who's into fine taste and cuisine, then you'll love the food at The Grand America. Every dish I had was packed with flavor and dressed to impress. The service and staff were impeccable. When calligraphies down for room service, someone picked up immediately, and within less than 30 minutes, a beautiful meal was delivered right to my door. Many, even luxury hotels oftentimes have problems with punctuality, but not this one! I was so impressed by the service, decor, and sweeping views. When visiting The Grand America, do not miss out on the morning coffee and fresh pastries in front of the fire in their common lounge. It's such a quiet, peaceful and inspiring environment.
If you have the chance, don't miss a night here during your next stay in SLC!